The history of Turkish Baths in the UK is not a widely researched topic. However, I have uncovered some really useful resources about them over the past few years.
Since 2019 I have been involved in work on the Borderlands Growth Deal, focusing principally on Carlisle Station. My research into this fascinating site has also extended to the adjacent public baths which includes a small Turkish Baths.
When built, the baths was located in a densely industrial part of Carlisle. But inside, the decorative details transport you to another place and time – it really is a hidden gem.
My investigations into Turkish Baths have led me to understand the history of public baths. My research and the resources below have given me the foundation needed to provide advice to other community groups, such as Withington Baths.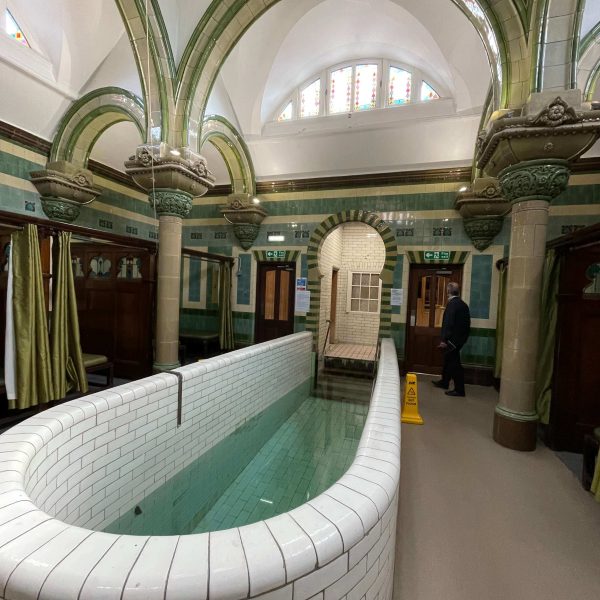 TURKISH BATHS: TOP 3 BOOKS
Historic England Listing Selection Guide for Sports and Recreation Buildings
Although this guide doesn't have anything specifically on Turkish Baths, I mention this first to provide a little insight into my research process.
The Listing Selection Guides by Historic England are frequently my starting point when I research a building and want to understand the broader context of the typology.
For that reason this was a good starting point to provide the wider historic context. The Listing Selection Guides also include a bibliography which gives me a direction for the next steps in my research.
'Great Lengths: The Historic Indoor Swimming Pools of Britain'
Included in the bibliography of the Listing Selection Guide, this is a wonderful resource on all types of historic swimming pools.
It takes the reader through the history of this building type. It starts before 1846 and the passing of the Baths and Wash-houses Act, through to the current day and the adaptive re-use of disused baths.
The way in which the book is split into different periods makes it a very useful resource to see the overall development of the typology.
'Taking the Plunge: The Architecture of bathing' by SAVE Britain's Heritage
This book is also included in the bibliography of the Listing Selection Guide with an evocative image of Harrogate's Turkish Baths on the front cover. SAVE produced this in 1982 when the future of historic swimming pools was increasingly coming under threat.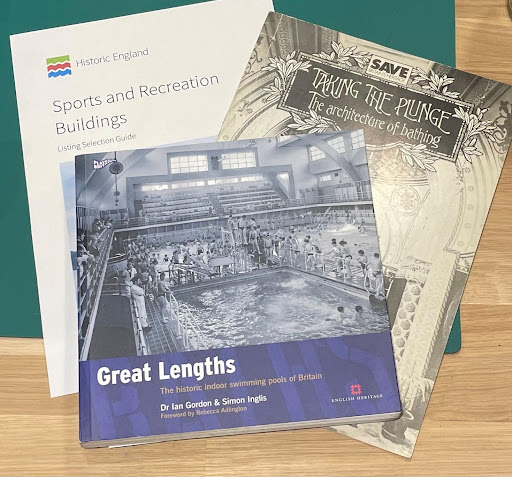 BEST OF THE REST ON TURKISH BATHS
'Victorian Turkish Baths' by Malcolm Shifrin
Not really the best of the rest, more like the principal resource specifically on the typology of Turkish Baths. The content of the book is also available on the Victorian Turkish Bath website.
NEXT IN BB'S BOOK SERIES
Look out for the next instalment in the BB's Book series, which will be on railway heritage. I've previously written about shop fronts.
All Blog Posts