My work as a conservation architect involves lots of really interesting opportunities for research and, if I'm honest, feeding quite a big obsession for buying books! I now have quite a library of resources, but each project provides new opportunities for research and learning – and acquiring a few more books.
My recent work on various high street projects is a great example of this. See the following bibliography that has been informing my work on projects such as Tyldesley High Street Heritage Action Zone, Withington Development Plan, Barrow Masterplan, Little Underbanks in Stockport as part of the THI and Mansfield THI amongst others …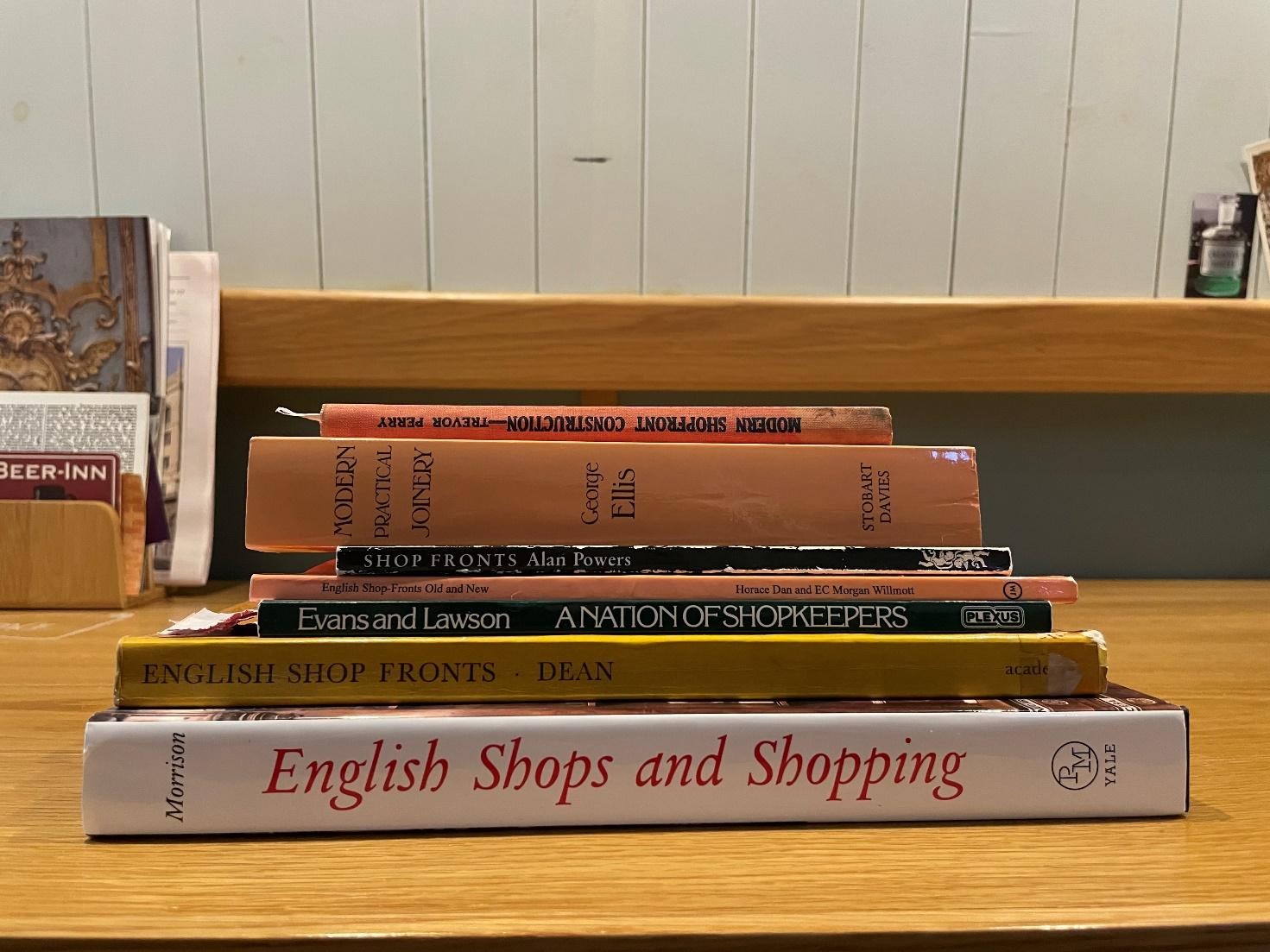 TOP 3 BOOKS ON SHOP FRONTS
'Shop fronts' by Alan Powers
Although written in 1989, the preface sets a scene which applies as much to our high streets today as it did a few decades ago, highlighting that "shop fronts can be the making or the undoing of historical streetscapes".
Powers also states that he hopes the examples gathered in the book will inspire architects in their design of classical wooden shop fronts, and they certainly do.
The main text provides a commentary on the origins and development of the shop front through history in Powers' informative style that is also so enjoyable to read.
There is a wealth of photographs showing shop fronts from the C18th through to the C20th which is a valuable resource to architects when developing proposals to reinstate lost historic detailing. And it finishes with a thorough bibliography for those who want to delve deeper into the subject.
'Modern Practical Joinery' by George Ellis
This one is not so modern really, as the book was published in 1908, but it is very practical. It's an invaluable resource for all architects working on historic buildings, and not just for shop fronts. It covers all aspects of joinery, and includes a chapter dedicated to shop fronts and shop fittings, with very useful commentary and drawn details.
'A Nation of Shopkeepers' by Bill Evans and Andrew Lawson
My favourite, if only for the wonderful typography on the front cover. This book has chapters on the different types of shops, from the fishmonger to the tobacconist, and is packed full of photographs – a really wonderful record of the history of our nation's shopkeepers and their shops.
BEST OF THE REST
'English Shop-Fronts Old and New' by Horace Dan and EC Morgan Wilmott
'Modern Shop Front Construction' by Trevor Perry
'English Shop Fronts from Contemporary Source Books 1792-1840' by David Dean
'English Shops and Shopping' by Kathryn Morrison
Historic England, Commerce and Exchange Buildings Listing Selection Guide (2017)
NEXT IN BB'S BOOK SERIES
Look out for the next in BB's Book series which will be on Turkish Baths…
---
Need support with a conservation architecture project? Let's chat.
All Blog Posts