After almost seven years of running my own conservation architecture practice, it was definitely time to update the website.
And doing a new website has been quite a learning curve, not only in the nuts and bolts of the tech stuff but also because it's given me a real opportunity to reflect on why I chose to be a conservation architect, what I've loved about my career so far, and what I continue to learn from the ups and downs.
The roots of why I love doing what I do probably go back to lots of childhood holidays visiting castles and cathedrals and wandering around postcard perfect historic towns. At age 14 I took my first tentative steps into deciding what I might want to be, and I did one week of work experience in an architect's office in Newcastle-Under-Lyme. As well as being given the task of measuring my own house and drawing it up – using Rotring pens for this first time (this was the 80s before CAD) – I was taken on a visit to a row of terraced houses being repaired as part of the regeneration of the housing stock in Stoke-on-Trent.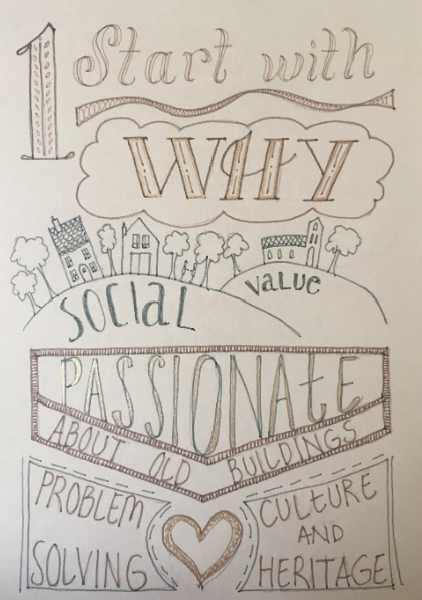 Fast forward
Fast forward to the 1990s and one of my first projects as an architectural assistant was shopfront repairs to Adelaide Terrace in Benwell, a part of a different Newcastle and another place in the UK which became known for selling off its housing for £1.
These projects are not the Grand Designs type of architecture, and they often bring unique challenges as well as opportunities, but the benefit that they bring to their local communities was clear to me in those early days and is still at the heart of what being an architect is for me. When we care for the buildings that have been created by the generations before us, we are leaving a legacy and caring for future generations to come.
What I love is working with communities and individuals who share this passion, and my years running BB Heritage Studio have involved fantastic opportunities for me to work on these kinds of projects, bringing my specialist knowledge of the intrinsic value of the historic fabric and how to conserve, repair and adapt it.
Reaching a milestone
At this milestone it's been great to take the time to reflect and look forward to working with more communities and more old buildings that need a bit of TLC!
A big thank-you to everyone who has patiently helped me to get this website to this point …
Belinda of Very Twisty, Tom and all at Dune Root, Helen and her team at Incredibble, Lucy and her team at Luma, including Laura Stoker who has done a lovely update of my logo, Sue Austin, Juliette of Architypal and the wonderful Karen of Goodness Marketing. I couldn't have got here without you. Thanks for all your help and support.
---
Until my next blog post, you can also connect with me on LinkedIn and Instagram.
All Blog Posts