As we're approaching the two-week shutdown for Christmas, like many business owners I've been reflecting on 2021.
In many ways we are still waiting and hoping for a "return to normal". But this year has been very different to 2020 for BB Heritage Studio – and a busy one at that!
Last year my hard hat and site boots mostly sat in the cupboard. Zoom meetings were a daily event. This year my hard hat has been my main attire. Wherever possible (and safe to do so) in-person engagement has been a key aim.
Wider team collaboration and community involvement have been a strong focus. So the Manchester Bee – a symbol of collaboration – sits at the centre of the BB Heritage Studio Christmas card this year.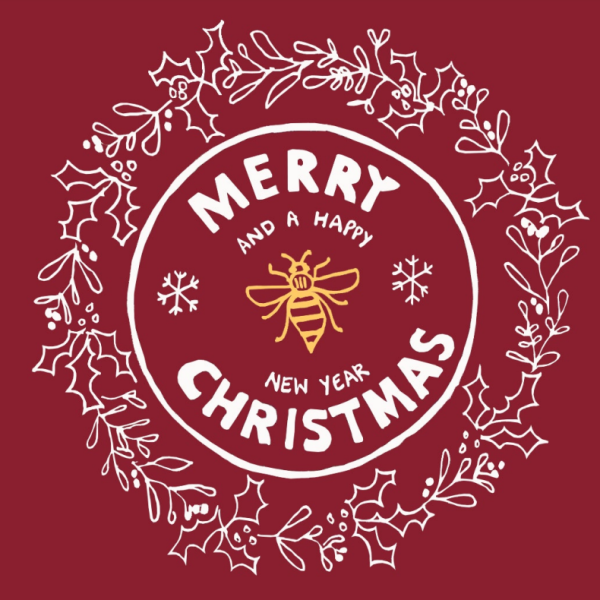 HARD HAT & SITE BOOTS
It's so exciting to see projects, some of which I have worked on for years, finally become reality on-site.
It's also really challenging. Sometimes the pain of delivering something on-site is compared to childbirth – think Grand Designs!
Like raising a child, it takes a village to deliver a construction project. I am so grateful for the continuing positive collaborative relationships I have with contractors, consultants, clients and the communities in which my projects are located.
From Islington Mill in Salford to Tyldesley High Street in Wigan and beautiful private sites in Cheshire, delivering construction projects right now is hard. However, with the wonderful teams of which I am part, I'm confident we can do it!
HERITAGE – THE GIFT THAT KEEPS GIVING
As well as delivering projects on-site, this year I have absolutely loved being part of the delivery of the National Lottery Heritage Funded Activity Plan for Islington Mill.
It is a joy to see people engaging with the heritage of the site in new ways, and a privilege to experience the lasting legacy that this work will bring to Islington Mill.
TIME FOR CREATIVITY
For me personally it has been really important to carve out time for personal creative projects this year.
I decided to go back to studying and have just completed an Online Foundation Course in Art and Design with the wonderful West Dean College – more of which I would love to share next year.
I hope you have a wonderful Christmas and a hap'bee 2022!
All Blog Posts