If you have followed the story of my conservation architecture practice, you will know that a couple of years after starting out (now over seven years ago) I took the unusual step of having a narrowboat built as an office space.
It was one of a lot of good ideas that came out of a few evenings in the pub with my partner, Russ Bridge, who is co-director of Bridge Architects.
Russ himself had pounded the pavements of Manchester to find their office space. From his experience I learnt that if you want to own an office in Manchester city centre, not rent one, that is a tricky business.
The search for Manchester office space
At the time, I was working on the Ordsall Chord and a few other Manchester-based projects. Having a space in the city centre, or as close to it as possible, was really important to me.
It also appeared to be expected by some clients and peers, and to be the only option if taking on staff was part of the business plan (more on all this later).
Manchester has almost every option under the sun for renting office space, from a single desk to a room to a floor. However, I was determined to have my own space: something that I was in control of and that could also serve as an investment of sorts.
After ruling out parking a Winnebago in a railway arch or trying to buy any tiny random building /plot we stumbled across, I started to seriously pursue using a narrowboat as an office space.
Building the Manchester Bee narrowboat
I worked out the optimum way a narrowboat could work for me and ruled out a second-hand boat. I was fixed on having one built from scratch – something I had never done before.
It was quite an experience and learning curve, but eventually at the end of 2015 the Manchester Bee was launched in Lymm and cruised to New Islington Marina.
I primarily designed the boat so that it could provide desk space for three people. However, it could also easily be converted to a holiday or small liveaboard boat if the needs of my business changed or I decided that an office on a narrowboat was no longer viable.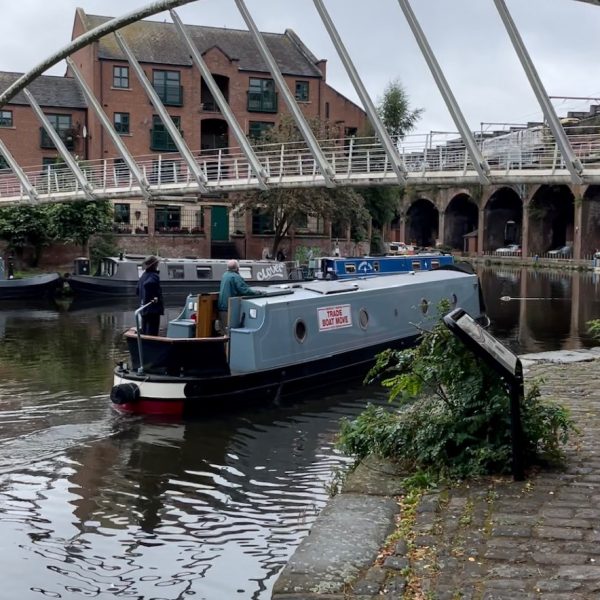 All change in 2020
That change was brought about unexpectedly in 2020. Alongside other parents in the country I have been working from home through the pandemic so I could support my children's home learning. Visits to my floating office were few and far between.
What has been most interesting and unexpected is how my perspective on working from home has shifted hugely through this enforced home working. And I think this is the case for a lot of us.
I think there is now a collective understanding that your office location is not a signifier for the success or seriousness of your business. Your skills and what you can bring to your work are more important than where you work from.
The different ways we have worked virtually over this difficult period show that you don't need to have an office space to collaborate with clients or staff.
New ways of flexible working
This shift didn't actually start with the pandemic. I was interested to learn that back in 2017 WordPress closed their snazzy San Francisco office as not enough staff were using it, instead preferring to work from home. The benefits of home working are really tangible for a lot of people.
For me, not having a commute into Manchester has brought the benefit of extra focused time either on project work or for time out of my business to recharge my batteries.
It got me thinking about whether there were other advantages to changing where I work. I realised that not having the cost of keeping and maintaining the floating office will bring obvious benefits for the bottom line and keeping my fees competitive or even affordable for the community groups I support.
So after a bit of thinking (admittedly with the head and not the heart as I have loved my floating office), she is cruising off to pastures new.
Instead, I am starting to construct a super insulated garden office. My carbon footprint will be lower, and I'll be swapping the morning commute for walks with the dog, but I'll still be able to support and deliver on all my projects in the same way I always have.
All Blog Posts