I have consistently worked on railway heritage projects since 2011, when I got involved in the Manchester Victoria Station project as an associate at BDP.
Since then I've had the opportunity to work on various different railway sites from Brighton to Swansea and up to Carlisle. I still relish the opportunity to work on this fascinating typology.
It is always intriguing to research the history of how our railways, their stations and associated structures such as bridges came into being.
Quite often the stories behind the origins of our railway buildings read a bit like a soap opera. There are different companies who pitched for the best routes, and the names of the sane eminent engineers of the time reappear all around the country – such as George Stephenson, Joseph Locke and Thomas Brassey.
It can be quite complex to establish the history and evolution of a railway site. The early stations in particular went through rapid changes through the 19th and 20th centuries.
It is important to understand the architectural history of the station buildings and their immediate surroundings. Also important to understand is the wider context of how the use of materials and building technology changed dramatically across this period.
My railway book collection therefore features books specifically on the history of bridges and cast iron structures amongst others. When you focus on a particular railway line or site, you will find many books written by railway enthusiasts who have undertaken their own research.
Even my big stack (which is still growing) is just a drop in the ocean of books on the history of railways in our country!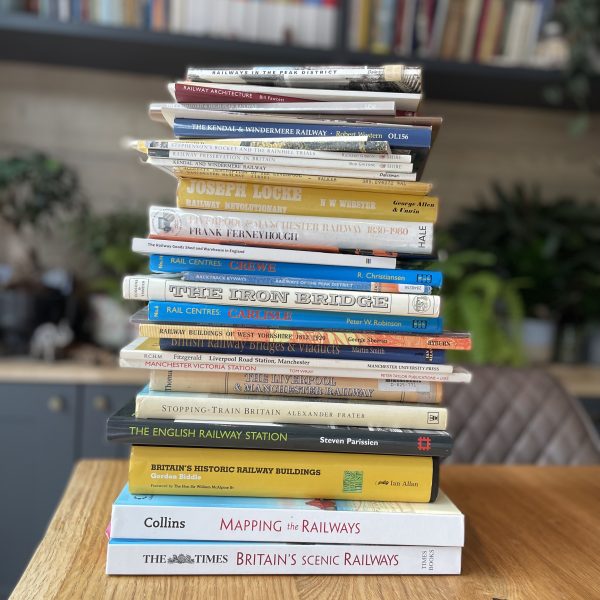 TOP 3 BOOKS ON RAILWAY HERITAGE
Historic England Listing Selection Guide for Infrastructure: Transport
As with many other building typologies, the Listing Selection Guide is a useful starting point for research. In a relatively short document it packs in the key information to set the national context. It also provides a useful select bibliography.
'Britain's Historic Railway Buildings: A Gazetteer of Structures and Sites' Gordon Biddle
Just as I will always check whether a site is listed in the region's Pevsner, this is my go-to when I first start researching a railway site. It doesn't have EVERY railway site in the country in it – but almost! It provides accurate key information on that site. From there I assess how much more detail I need and what other sources I should look at.
'The English Railway Station' by Steven Parissien
A beautiful book with photos which really evoke a bygone era. Very useful to understand the architectural development and social history of the British Railway Station
BEST OF THE REST
'The Railway Goods Shed and Warehouse in England' – Historic England
The heritage of our railways isn't just restricted to the station buildings. As such it is important to understand the development and heritage merit of other railway structures such as goods sheds and warehouses.
This is a detailed in-depth study which is invaluable for understanding these important sites – many of which are vacant or underused.
'The Railway Companion Describing an Excursion Along the Liverpool Line'
When I worked on the Ordsall Chord I tried to access as many original sources as possible. This helped me to understand the original construction and evolution of the oldest surviving passenger railway station in the world.
This wonderful book published in 1833 is a great example – just like Michael Portillo uses the Bradshaw's guides on his Great Railway Journeys!
NEXT IN BB'S BOOK SERIES
Look out for the next in BB's Book series which will be on mill buildings.
All Blog Posts